Body Movin'
New digs! The Joy!
We finally moved out of the upstairs unit I've inhabited in one way or another for the past several years and into a real house with a huge backyard, garage, and two bedrooms. Check it out: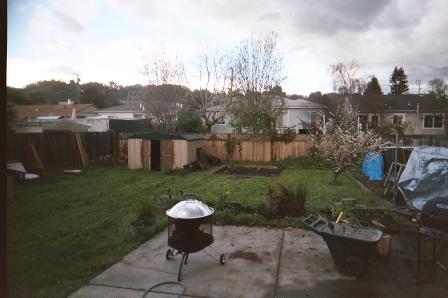 It may not look like it's all that, but give it some time. I just got there and have been busy painting the inside, not to mention devoting all my finances to travel and a new stereo system. I scored a bunch of paint for free so will be painting the outside soon as well. Considering what I was able to do with my last place,
I think I'll be able to work something up for this one. We've already had some excellent barbecues. Last week I used the last of the miso paste (not soup base) that I bought in Shirakawago and barbecued whole trout on magnolia leaves. They were superb. The miso paste from the Hida-Takayama area is not what you would call sublime either--it's punchy, crunchy, and stimulating. I used what was left over and 'cued up a boneless leg of lamb which I've been enjoying for the past few days.