I think I'll call him "pinchy"
Pinchay Langosta is one of my favorite things to cook or eat. Everyone freaks out when you bring out that big, red beast and drop it onto a plate. Even people who don't like aquarium fish will find themselves slurping the connective tissues out of these babies.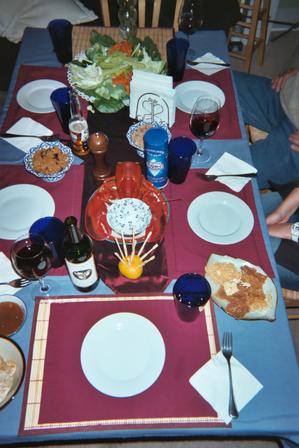 This particular lobster was made hor mok style, where all the meat is removed from the tail and blended with crab or shrimp and a host of other things then steamed into a custard. Anyone who thinks this is a waste of lobster should be reminded that the claws are still there, and I think they're the best on the lob anyway.
So hor mok is a Thai moniker, indeed most of this meal was Thai in derivation. Thai has become the bay area's comfort food for certain. I myself have gone from knowing nothing about it seven years ago to being one of the best honky Thai chefs I know. In general, a Thai meal by Dr. Five Pints will include one or two curries, one or two appetizers, and a special dish such as soup or hor mok. I am planning a new curry that I'll post about when I've made it.