A Mutha of a Meal
As I've done for the past couple of years in a row, I had my nuke-yoo-lurr family over for Mother's Day dinner. I'm not going to say that I don't usually go all-out with my cooking, but for this meal I went
all out
.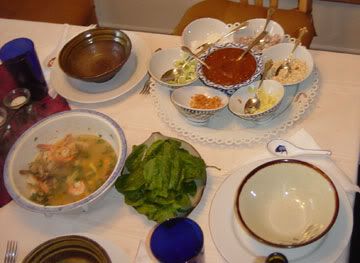 The first part of the meal conssted of soup and apps, namely Tom Yum Goong and Meang Kum. Meang Kum you will recognize from earlier posts as being one of our favorite appetizers and inexplicably hard to get at certain restaurants even though it's painfully simple to make. Next came the tamarind crab: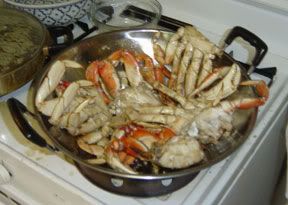 Tamarind crab is prepared in a wok after it is deep fried. To its left you can see my new signature dish, pomegranite curry, steaming away in a large saucepan. Their presentation at table was something to write home about:
The family feasted upon these armored delights of the sea while I busied myself with the final dish: ginger pork with black fungus and scallions. It was my first attempt at making this dish and the first time I'd cooked with black fungus. I can safely say I love them both.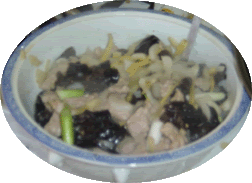 The picture is a bit out of focus but I can assure you nobody's forks were when I brought this baby out. Serve it over a little black rice and you're set. We ended the meal with two cheesecakes from Harry and David and sent everyone home full of food.