I smell pot!
A judge nasally inspects our ovens for 'rancid'.

I just got a fresh batch of photos back from our Dutch oven cook-off victory in La Pine, Oregon and thought I would share them with you. Below, E chops the garlic that we brought all the way from Gilroy for the festivities. I think something that really won us points with the judges was the fact that we cared about our ingredients and only brought the best we possibly could.
As stated below, the baklava was a big hit. We used oregano-infused butter which we doused between each layer of phyllo dough to bake our way to best use of featured herb. I even melted the butter in a cast iron cup measure: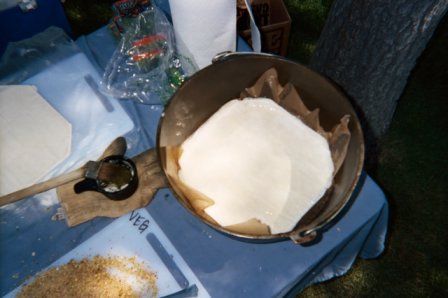 When completed, the 'lava was hot. We flanked it with the unused portion of the imported Iranian pistachios and walnuts and the crowd went wild.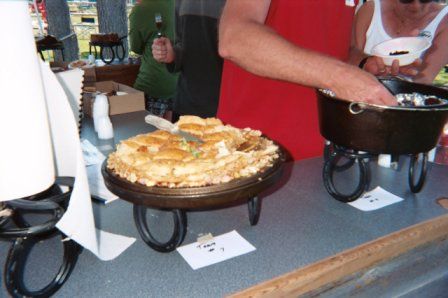 The only problem was how to get it into people's waiting mouths. When cooking baklava you have to know how many pieces you are going to end up with and cut accordingly; you can't just cut it all up at the end or the phyllo will fall all apart. Folks had to make do with rather large pieces of 'lava which they were none to displeased about.