Oh, oh, the Wells Fargo Wagon is uh...
Did I mention that E and I are the returning champions of the La Pine, Oregon High Desert Herb Festival and Dutch Oven Cook-Off?? Yeehaw!!!
In the midst of a mockup western town we mocked-up semblances of old west
inhabitants
did our best to impress in 'god's country'.
Dateline: La Pine, Oregon. Never heard of it? It's no surprise. Neither had we until Tuesday, August 2 when I found out about the Dutch oven cook-off to be held on Saturday the sixth. This was an International Dutch Oven Society (IDOS) sanctioned cook-off and a qualifying match for the world championship in Murray, UT this year. It's also the only one that we thought we would be physically and financially able to make it to. So we made a snap decision to head to Oregon late Friday night after work to compete Saturday morning.
We knew we'd be outclassed by all these old-timers who'd been Dutching it for a thousand years or so. We knew everybody but us would be sporting magnetic yellow ribbons on their cars, and that there wouldn't be a bottle of Pellegrino for a hundred miles in any direction. But we also had a good feeling that we would win. In an evening, we came up with these recipes, adhering to the competition's rules and featuring the herb of the year, Oregano:
---
Dessert: Baklava
Ingredients:16 oz package phyllo dough, thawed (follow package directions) 16 oz pistachios, finely chopped (4 cups) 1/2 cup sugar 1 1/2 teaspoons cinnamon 2 sticks melted butter or margarine 12 oz honey
Fresh oregano

Special Equipment:
Vessel for melting butter
Oil brush
Parchment paper
Directions:Preheat a large Dutch oven. Prepare butter by melting with some oregano. Leave oregano leaves attached to twigs for easy removal later.
Brush butter on bottom and sides of large Dutch oven. Mix nuts, sugar and cinnamon. Unroll phyllo dough and cut into 9x12 pieces (this can be easily done by simply cutting the large piece in half). Place one layer of dough in pan. Brush with butter. Repeat with at least 5-6 layers. Evenly distribute one cup of nut mixture. Place one layer of dough over the nuts. Brush with butter. Repeat with at least 5-6 layers. Continue with 5-6 layer intervals until last cup of walnut mixture is layered. Over walnut mixture, place one layer of dough and brush with butter. Place all remaining dough on buttered layer. Butter the top layer only. With a sharp knife, cutting only halfway through all layers, divide into 24-36 portions. Bake for 1 1/2 hours or until light golden brown. Use parchment paper to remove baklava intact. Cover the inside of the D.O.'s lid with the paper, replace the lid, then flip the oven so the baklava fall onto it. If underside is not as attractive as the top, flip them again once they are out of the oven. Heat honey until hot, but not boiling. Pour over the top of Baklava. Cool. Cut through bottom half of layers to serve.

Bread: Herbed Focaccia
Ingredients:
3 ½ Cups unbleached organic flour
1 Tsp sea salt
Coarse sea salt to top
Pinch sugar
1 Packet active dry yeast
Olive oil
1 ¼ cups water
1 cup parmesan cheese
Herbs (rosemary, oregano)

Combine wet ingredients in a bowl. Combine dry ingredients in a bowl. Mix all together and knead for at least five minutes. Cover bowl and allow to rise. Punch down and let rise again. Coat dough with olive oil. Bake in a large Dutch oven at 400 degrees for 20-30 minutes. For a 12" DO this will mean 19 briquettes on top and 10 on the bottom; for a 14" DO you will need 24 briquettes on top and 12 on the bottom. Turn often to ensure even distribution of heat. Remove bread, cut, sprinkle with salt and herbs, and serve.

Main: Herb-encrusted rack of lamb
Ingredients:
Two racks of Lamb
Sea salt
Stock
2-3 Onions
Truffle oil
Olive oil
Garlic
Black pepper
Root vegetables (Parsnip, potato, carrot. Can substitute rutabaga for parsnip).
Herbs for rub (oregano, rosemary, thyme, basil, oregano, garlic)
Herbs for flash-frying (oregano, rosemary, thyme, basil, marjoram)
Mustard
Panko bread crumbs

Special equipment:
Dutch Oven Rack
Cast Iron Skillet
Baster

To prepare herb rub, mix herbs together with mortar and pestle. Remove and mix with panko in separate bowl.
In large Dutch oven or cast iron skillet, brown lamb in oil to make crispy outside. Remove lamb and insert rack. Cut between lamb bones to ensure penetration of flavors, but not enough to separate the ribs. Apply mustard to meaty part of rib, top and bottom. Rub mustarded areas with herb rub. Place stock in D.O. Then place root vegetables in D.O. Cook root vegetables for 20-25 minutes at 350 degrees.

A 12" D.O. will require 17 briquettes on the top and 8 on the bottom to achieve this temperature; a 14-incher will require 21 on the top and 11 on the bottom.
Add rack and lamb and onion and cook for 10-12 minutes at 450 degrees or until the meat reaches an internal temperature of about 130° F. Allow to rest 10 minutes before carving. Baste. For a desired temperature of 450 degrees, a 14" D.O. will require 26 briquettes on top and 14 on the bottom; a 12" D.O. will require 22 on top and 11 on the bottom.

---
The level of specificity in the recipes was called for by the judges as we were adhering to IDOS rules. I did come up with two innovations that I had to ask about. The first was cans of compressed air. Now of course the cowboys, etc. in the nineteenth century didn't have cans of compressed air, but they did have Dutch ovens that cook using charcoal and so they had a perennial problem of removing the charcoal dust from the oven lid before inspecting the food cooking inside of the oven. This they accomplished with a whisk broom. I opted for the 21st century's technological advantage and had to make sure it was within the rules. The gracious host of the event, Linda, said "we're not going to hang you if you don't follow one of the rules" and that she thought the compressed air was a hell of an idea.
For purposes of time and avoiding CTS I am going to gloss over the first two dishes, which are the ones we won first and second prize for.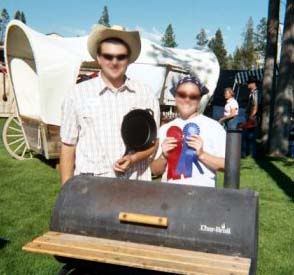 Here are the young lovers, basking in the afterglow of winning first place
for dessert, second place for bread, people's choice for cleanliest
camp.
I will simply say that baking bread and baklava in the Dutch ovens was an amazingly and surprisingly awarding experience that paid off big time when it came time to be judged.
On to the main event, and the one we were the most sure of. We went about the business of prepping all of the vegetables for the lamb dish even as we finished cooking the focaccia. We had a gorgeous broth in which to cook all of the root vegetables, 8 parts Pasta Shop chicken stock and one part Oakland Butcher veal stock (we could not get our hands on any Fatted Calf duck demi like we'd hoped). In truth we spent too much time worrying about the vegetables and cross contamination (another stipulation of the rules) and not enough time worrying about the lamb.

Is this a cleanly camp cooksite or what??
We tried so frigging hard to have this ready on time, and in the end what tripped us up was that the lamb simply had not cooked long enough. So, for anyone who likes rare meat (which apparently was most people at the cook-off, as they would not leave us and our uncooked lamb alone) it was fine, but it wouldn't have been legal to serve. We managed to keep a rack for ourselves.
Our presentation as well was freaking gorgeous. We're pretty certain we would have one based on that--you should have heard the crowd's reaction as we brought it out and placed it aside the other main dishes: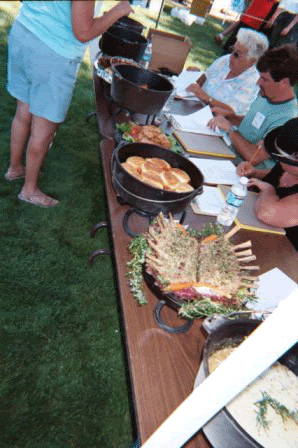 The redness that you see underneath the lamb is actually radicchio not red meat. The contrast was gorgeous. The dish stage right of ours (with the biscuits on top) was the only one we saw that employed the cook-on-top strategy that we so love to do with most of our Dutch oven recipes. Unfortunately the rest of the dish was unremarkable, resembling the
BBQ chicken
below. Similarly the one to stage left of it was a novice's attempt at a pro's dish. This was made by our immediate neighbors, team #8, who were very well-intentioned but not very accomplished Dutch oveners.
So in short we took second place in the contest all in all. We are not going to nationals this year unless we go to Kenab, UT (where??) on August 27th for the western legends competition there. We've looked into corporate sponsorship, the only way we can think of to get there, and it's not forthcoming. So, we are prepping for next year's HDHF hoping we can surprise them again with our crazy Californian-Italian-Mediterranean cuisine. On the plus side, we won over 200 bucks in cash and prizes, and so treated ourselves to a night at the crater lake lodge, which was ridiculously gorgeous.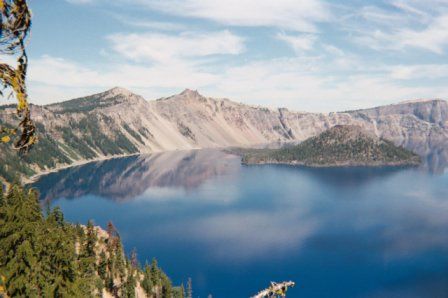 E and I cooked the rest of the lamb on the porch at the lodge using my
portable cooker
and had a few drinks to celebrate.
I have to note that all of the people involved in this competition were extremely nice and friendly. We were a bit worried when I first spoke to Linda on the phone and she told me it was 'god's country' up there. We were afraid that people would try to convert us to whatever religion they follow (we saw a lot of Pentecostal churches up there. >shudder< )But we politely declined the kind invitations we got from people to stay at their homes that night and thus removed the context. I'm pretty sure most people wouldn't be prepared for our ultraprogressive Bay Area musings living in the middle of nowhere.
But as I say, these people were as nice as can be, without being weird nice like in Utah. They have kept in contact, sending us nice letters and emails. We're thankful for the experience and would do it again.