Dinner on the hoof
So much has happened recently I've barely had time to think about it, much less write it all down. So instead I will write one post to cover all of my most recent activities. The elk above crossing the road are doing so in Mammoth, WY. at the northern tip of Yellowstone national park, which is where E and I spent a week a little while ago. Seeing these one-ton meatsacks every day sure made me want to try them out for dinner. Eventually I got my chance--on the last night of our stay we splurged and checked into the old faithful lodge, and they had elk on the menu.
Not only was it the last night for us in Yellowstone, it was the last night of the lodge's being open for the next three years. We did not seem to realize what this meant. Reading between the lines yields: scores of American and eastern European twentysomethings working in the various lodges had rented out most of the place for the night so that they could party their asses off till who knows when. If you have ever stayed in a lodge in Yellowstone, especially the Old Faithful, you know that these places are hardly quiet in the first place. There was so much after-hours activity going on that at 5:45 in the morning, a fire alarm got pulled. We didn't stay around to find out if there was an actual fire, for we knew that had there been one they wouldn't let us back into our rooms anyway. While middle-agers struggled to wake the aged and evacuate, we packed our shit and took off. Thanks to E, we did not neglect to bring our last rasher of Buffalo jerky with us and so enjoyed its stringy saltiness all the way home. 50 miles at 30 MPH later, we ended up having an excellent breakfast at the Three Bears which is something of an institution. A very simple affair consisting of biscuits, sausage gravy, and hash browns that really did the trick.
Meanwhile, at home, my Kabocha and Acorn squash were ripening: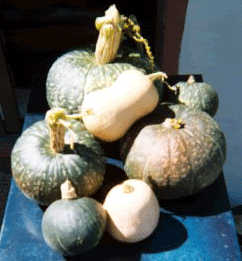 Growing Kabocha has been one of the greatest accidental gardening projects of my life. Do you know how much these things cost in the store? Too much. Not only are they delicious, but I have been giving them out to all of my favorite sushi restaurant owners, Japanese professors, and the like so they have become something of a currency.
Guy and I decided to hold a DOG (Dutch Oven Gathering) at his house this last weekend. It was ludicrously successful, plus I got the chance to eat elk and venison again, thanks to chilebrown. The (stolen) image below links to Guy's extensive coverage of our efforts, which included chilebrown's Chili and Cornbread, my and E's liberty duck legs with stew and Calabrese sausage stew with dumplings on top and Guy's Lamb Roast and his wife's biscuits.
Guy's post obviates the need for further description on my part. I'm signing off for now but will be back soon to regail you with further culinary escapades.