old food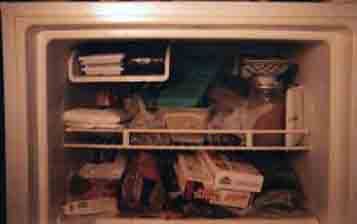 So, my freezer was full. I apologize for all the terrible photos, they are analog in nature. What you're seeing is a little jar of veal terrine (perhaps the only use of beef I will ever admit to), ice cube trays and mason jars full of turkey stock, phyllo dough, ice packs, a leg of lamb, falafel, green chilis, a gallon of clam chowder, and the list just goes on and on. We decided to clean house, so to speak, on this mother.
So we thawed the lamb for about a day then plunked it on the grill, shown below, with some mesquite coals and a bit of rosemary wood: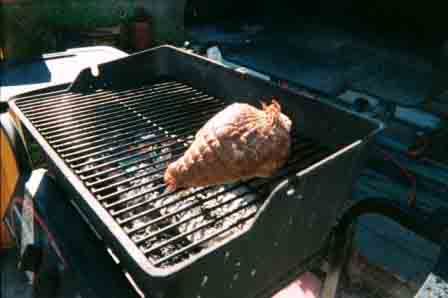 Then I set about making a sauce for it. I combined the veal, stock, and trimmings from the leg in a bowl. To this I added about half a bottle of pomegranate 'molasses' and some water.
The rosemary here is just for show. So, I boiled these down for about 45 minutes on a low setting, and the sauce came out great. It didn't matter that I overdid the lamb a bit because the dryness was overcome by the great flavor of the sauce. Call me simple, but I find that lamb, rosemary, and pomegranate always go well together.